16th February, 2011. A night etched into the memory of any Arsenal fan. The world's best side at the time, and eventual Champions League winners that season, went to the Emirates unbeaten in the tournament and on a run of 21 consecutive La Liga fixtures without a loss.
The Catalans took an early lead through David Villa, but late Robin van Persie and Andrei Arshavin goals gave the hosts a 2-1 advantage heading into the second leg.
However, that night is memorable for most not for the scoreline or for the goals scored, but for the performance of Jack Wilshere, then 19 years old.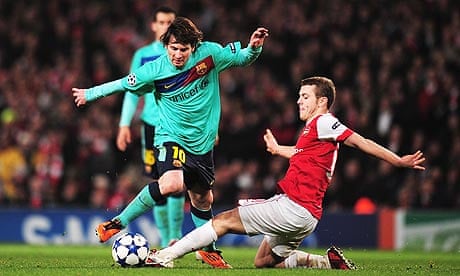 Countless column inches were written about the young midfielder's future for the club and for England, and it seemed certain that a bright future lay ahead for the Stevenage-born teenager.
Fast forward five-and-a-half years, and Wilshere has been dropped from the England squad, and is set to make his AFC Bournemouth debut at the weekend in the testimonial for Warren Cummings, a man with one Scotland cap who recently retired after a three year spell with Havant and Waterlooville.
Without wishing to belittle the career of Cummings, this is an apt barometer to demonstrate just how far Wilshere's career has fallen since that night in North London.
In the five seasons since the Barcelona game, Wilshere has played 4,325 minutes in the Premier League, out of a possible 17,370. To put that into perspective, another ex-Arsenal man, Abou Diaby, played only 200 minutes fewer in his final six years at the club, and his career will be remembered for his perennial injury status.
Whilst that comparison may not necessarily offer insight on its own with regards to Wilshere's future at Arsenal, it is worth bearing in mind that Arsene Wenger never made Diaby available for loan in his time at the club. Nor has he offered Tomas Rosicky, Theo Walcott, Kieran Gibbs or Danny Welbeck for loan after long injury setbacks.
Presumably, Wenger believed that each of those players was able to offer something to the side despite their time away from the game, so kept them as options off the bench whilst working them back to full fitness. His perseverance with this method – despite its failings in the examples of Rosicky, Diaby and Walcott in particular – has continued; so by the same logic, it is clear that Wenger does not believe Wilshere can offer Arsenal anything this season.
Indeed, the BBC's David Ornstein even went as far as to suggest that Wenger was not particularly opposed to Wilshere moving to AC Milan this season, even though their deal for him would have included an option to buy him at the end of the campaign.
Conventional wisdom appears to be that this is Wenger's last season at Arsenal. It is the final year of the three-year deal he signed in 2014. He has shown all the signs of a man soon to depart.
And Wilshere, a player whose career he has nurtured and overseen since he was a teenager, has two years left on his current contract.
Regardless of which manager comes in to replace Wenger at the end of the season, as one undoubtedly will, they will want to mark their authority by clearing perceived 'dead wood' out of the club. Players like Carl Jenkinson, Gibbs, Alex Oxlade-Chamberlain and Per Mertesacker will all be likely departures, and it is hard to see how a new manager will look at Arsenal's midfield options and think that it is worth his time to renew Wilshere's contract.
After all, Arsenal have been playing a 4-2-3-1 for several years now, and it is a formation which does not allow Jack Wilshere a spot. He does not have the pace, nor does he possess the natural width to play as a winger; he is miles behind Mesut Ozil in the number 10 role; and Aaron Ramsey, Santi Cazorla and Granit Xhaka – and even Mohamed Elneny and Francis Coquelin – have been fit and firing for at least some of the past few seasons which Wilshere has spent on the treatment table. It is no surprise that all five are ahead of Wilshere in the battle for the two spots in the midfield pivot.
There is no way back. Which manager worthy of the Arsenal role will take the move of offering him a contract despite all the complications that would go with it rather than shipping him out?
Even if Wilshere has a phenomenal season for Bournemouth, and somehow manages to play more than 25 games for the first time since 2011/12, there will be the qualification that any of Arsenal's wealth of options would likely stand out in a midfield alongside Harry Arter and Andrew Surman. There will be the memories of his horrendous outings on the big stage at Euro 2016. There will be his terrible track record of getting involved in off-pitch incidents and making front page headlines in British tabloids.
It is difficult to see how a new manager will think that anything Wilshere has done in the past six seasons worthy of a new contract. And by next summer, he will be 25, and unable to live off one good showing against Barcelona as a 19-year-old in the same way he has done for so long.
So even though the fans have stuck by Wilshere through thick and thin, it is time for them to recognise that his move to Dean Court will not re-ignite his Arsenal career, regardless of how it turns out.
It is a great shame that Jack Wilshere's Arsenal career will be remembered similarly to Jamie Redknapp's at Liverpool or Darren Anderton's at Tottenham, but that is the sad truth.
He will be yet another English midfielder whose career tells the story of unfulfilled talent; of great promise blighted by injury and loss of form.